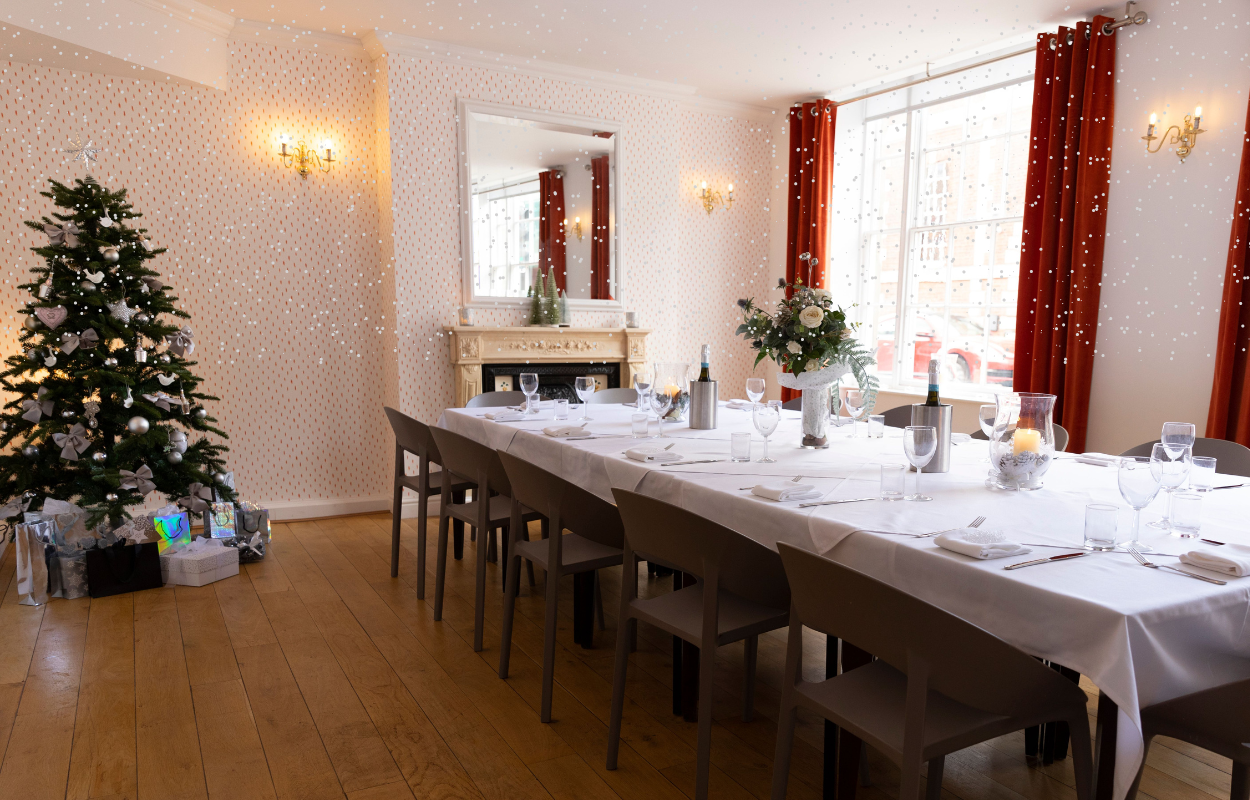 Prosecco, A DJ And A Delectable Christmas Menu
Christmas feels far away, but it'll be here before you know it! We're preparing for a brilliant festive season at the Warwick Arms, putting together lovely decorations, stocking up on our favourite drinks and putting together a fabulous Christmas menu for our seasonal bookings!
A Festive Welcome To The Warwick Arms
Warwick's festive season is filled to the brim, from the traditional Victorian Evening to the endless events at the Castle. Our 17th-century building makes the perfect setting for any Christmas party, whether it's a family gathering, an office party or an intimate dinner with friends set right in the middle of this bustling town, which will soon be glowing with seasonal decorations.
We can't wait to join in with the festive season, so we're preparing a choice of two menus and a special Christmas party package to make your event extra special! The party package features a delicious buffet and a DJ for parties of over 30 guests, for just £25 per person. This includes a wide array of hot, cold and sweet foods, as well as a complimentary glass of prosecco, sparkling elderflower or a bottle of Peroni beer on arrival. Alternatively, you might wish to enjoy the buffet without the dancing for £20 per person for up to 20 guests. Of course, if you're feeling super fancy you may wish to dig into our three-course sit-down meal for £30 per head, which caters for up to 50 people.
Our meals run from November to December but they get booked up quickly, so scroll down to view our Christmas menu before making your party booking.
Digging Into Our Christmas Menu
We've mixed it up at the Warwick Arms, giving you a taste of the traditional and the unconventional through our buffet selection, beginning with a choice of sandwiches. If you want to imagine it's already afternoon on Boxing Day, you could indulge in our turkey and stuffing filling or go for hearty beef and horseradish or brie and cranberry. We also have a platter with mixed meats and cheeses to supplement your festive meal!
If it's cold outside, then some piping hot small plates are the way to go. Our selection of hot festive foods begins with beef and Yorkshire puddings, followed by pigs in blankets – the nation's favourite trimming! These two dishes provide a taste of the conventional, accompanied by some spicier prawns and a chilli dip to tickle your tastebuds, as well as some vegetarian and vegan options. With our mango and brie parcels, hummus and veggie sticks and sweet potato falafel, there's no reason why you would need to be a meat-eater!
Of course, where would you be without roast potatoes as part of your Christmas party? They're the real favourite, but with all the sandwiches and hot plates, you may not have enough room, which is why we offer them as part of our sides for £5 per person, which includes turkey crown, seasonal roast vegetables and stuffing and gravy.
Our Christmas menu will satisfy your appetite for sure, but hopefully, you've got room for dessert!
Mouthwatering Sweet Treats
Our excellent chefs wouldn't ever forget dessert, which is one of the best parts of many a Christmas menu! Choose between blackcurrant and prosecco cheesecake, a melt-in-your-mouth yule log or some Christmas cake and mince pies.
Feast On Our Three-Course Meal
We also welcome parties of friends, family and colleagues for a three-course sit-down feast, including mouthwatering starters, a classic main course and indulgent desserts. These meals cater for up to 50 people, although we have smaller rooms available for a more intimate gathering.
As if that wasn't enough, you can have a DJ provided for free for parties of over 30 people. Whether it's an office gathering or an evening of family-friendly fun, you can enjoy dancing to some classic Christmas tunes that always put you in the festive spirit!
Get In Touch
Have we piqued your interest in our Christmas menu and festive party opportunities? If so, get in touch with the Warwick Arms Hotel, either by calling 01926 492759 or emailing reception@warwickarmshotel.com.
Don't forget that we also have a selection of cosy hotel rooms to relax in after a party – head to our website to browse everything we have to offer.