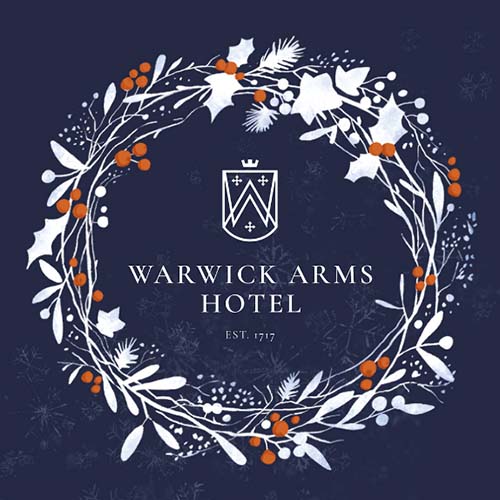 -
Christmas Events In Warwickshire With Our Venue Hire
Host your Christmas events in Warwickshire with our festive venue hire, which is available throughout November and December for all kinds of seasonal bookings!
After a busy year, it's time to don your partywear and celebrate! Whether that's by relaxing over glasses of prosecco or dancing the night away with your friends. Our 17th-century building is an excellent setting for any Christmas event in Warwickshire, especially with our function rooms, which will be full of lovely decorations.
Our Festive Venue Hire
Are you planning an annual office party? Intimate gathering? Extended family meal?
Christmas events in Warwickshire can all be hosted in our 'Warwick Suite' function rooms for excellent prices and delicious food! Choose between our buffet, three-course meal and our party package to start you off on your festive planning.
Our main Christmas party package features food, drinks and dancing! For £29.95 a head, you can enjoy:
A full Christmas buffet for over 30 guests
A Canapé Reception
A complimentary glass of prosecco, sparkling elderflower or a pint of Poretti on arrival
A free DJ and dance floor, perfect for dancing the night away
Alternatively, if you are looking for a smaller Christmas Party to enjoy the food and company without the dancing we have meal-only packages starting at £18.95 per person for buffet, £35 per person for a four-course sit down meal.
Fill in the contact form to book your Christmas event!
The Warwick Arms Christmas Menu
We're keen to provide something for everyone with our extensive buffet. There will be a variety of traditional and non-traditional food choices available, including vegetarian and vegan meals. We also offer a four-course sit-down meal, welcome drink on arrival and DJ costing £39.95 per person for 30 to 80 guests – details are available on request! Add a Canapé reception for just £5
Booking Your Christmas Parties
We look forward to hosting your Christmas events in Warwickshire! Should you have any travel concerns or your guests are reluctant to head home after a long night, we have a selection of hotel rooms that have been refurbished recently and they are an excellent place to rest after a fun-filled evening!
Our venue hire gets booked up fairly quickly as the party season approaches, so fill in the contact form below to get the ball rolling on your party!