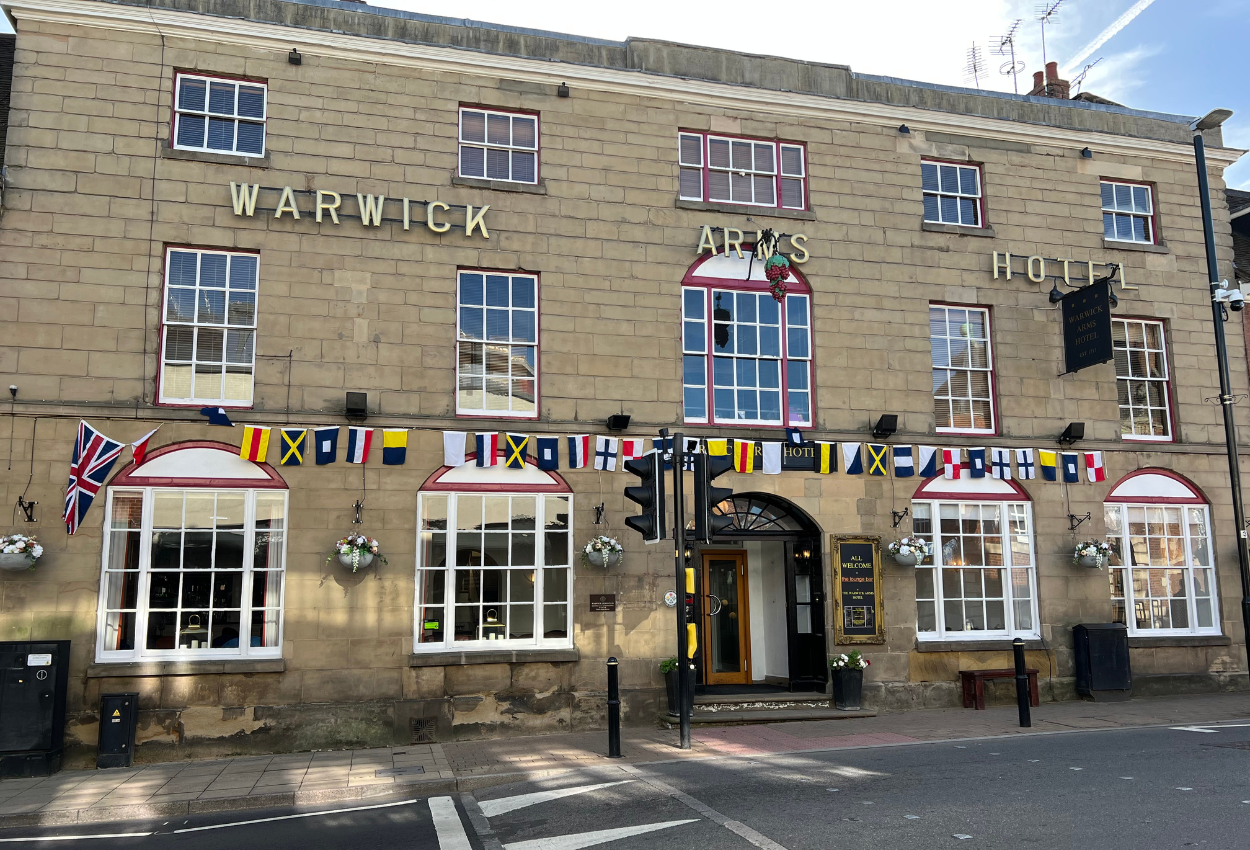 Our Warwick Arms Anniversary
One year, twelve months, three hundred and sixty-five days! If this was a wedding anniversary, we'd be eating breakfast in bed and swapping paper gifts. However, we're not remembering a wedding, we're celebrating it being one year since we took over the Warwick Arms, one of the finest hotels in an exquisite English town!
Twelve-Month Transformation
Instead of unwrapping paper presents or going out to dinner, we're celebrating with some good old-fashioned stats! In the past twelve months, we have:
Increased the number of staff from 3 full-time to 10, and 14 part-time to 17.
Spent over £120,000 on renovations.
Renovated our classy event suite, even including a brand-new events bar! Anyone can use our suite for christenings, birthdays, weddings and more. Our March wedding fair introduced many of our local suppliers, whose wares can make your special day look and feel fairytale-perfect.
Renovated 10 rooms, our Courtyard Restaurant and the plumbing system, improving water pressure in all of our en-suite bathrooms.
Created a new Sun Terrace, launched with antipasti sharing boards, Prosecco or Poretti.
Served 1250 slices of homemade cake, all baked by Tracey, wife and mother of our two excellent managers. These baked goods are on offer daily as part of our coffee and cake deal for £4.25, or as part of a luxurious afternoon tea. If you fancy some indulgence, the Warwick Arms afternoon tea includes classic finger sandwiches, homemade cake and freshly-baked scones, slathered with jam and cream.
Tickling Your Tastebuds
We've certainly been busy in the kitchen, making the Warwick Arms a one-stop shop for breakfast, lunch and dinner.
You no longer have to be a guest to enjoy our breakfast, whether you're munching on sausages or tackling a crumbly pastry. That also goes for dining out, with a delicious menu for residents and dinner guests. We've got pasta for when you're craving a bit of Italian, and burgers for when only meat and a bun will hit the spot (vegan and gluten-free available). Pie-lovers can dig into an award-winning pie, while our Sunday roasts are sure to make your mouth water!
Our chefs love to show off, so we've also created an ever-changing Chef's Menu, which changes every few weeks and uses the best products of the season. We wanted to invite Warwickians into our elegant hotel, giving them the full dining experience before they head off to their nearby homes.
Yes, Warwickians know quality when they see it, which is one of the reasons we also decided to collaborate with Wine Poole on a wine tasting event. Their locally distilled and bottled wines filled us with optimism, as well as some unique and delicious alcohol!
Comedy, Craft And Tango
For those whose interests lie outside of wine, we decided to collaborate with local teachers, artists and performers to make the Warwick Arms a hub of entertainment. One of our proudest moments was when comedy gold took to the stage for the comedy nights we hosted, with stand-ups from Britain's Got Talent and Night at the Apollo!
As well as watching the action, we also introduced the chance to take part, adding Thursday tango classes to our ever-growing list of events. Anyone can book to learn or practice tango, under the tutelage of professional Argentine tango dancers, before socialising with a complimentary drink.
Craft-lovers can tap into hidden art skills with regular workshops on ceramics, needle felting, jewellery and more, while our Robert Dudley history trail will be a spectacular dive into Elizabethan Warwick.
It's been hard work, but after twelve months of building, brainstorming, planning and hosting, the Warwick Arms is a stylish hive of dancing, crafting, eating and drinking, with freshly renovated rooms for overnight guests.
Discover The Warwick Arms Hotel
If you're curious about our events or our hotel experience, please visit our website! Alternatively, drop in to see us on the High Street – we'd love to welcome you to the Lounge Bar and tell you everything you want to know!
To get in touch with us, chat to our team on 01926 492759 or email reception@warwickarmshotel.com.
Hear about all our events, classes, special offers and more by keeping up with the Warwick Arms on Facebook and Instagram.