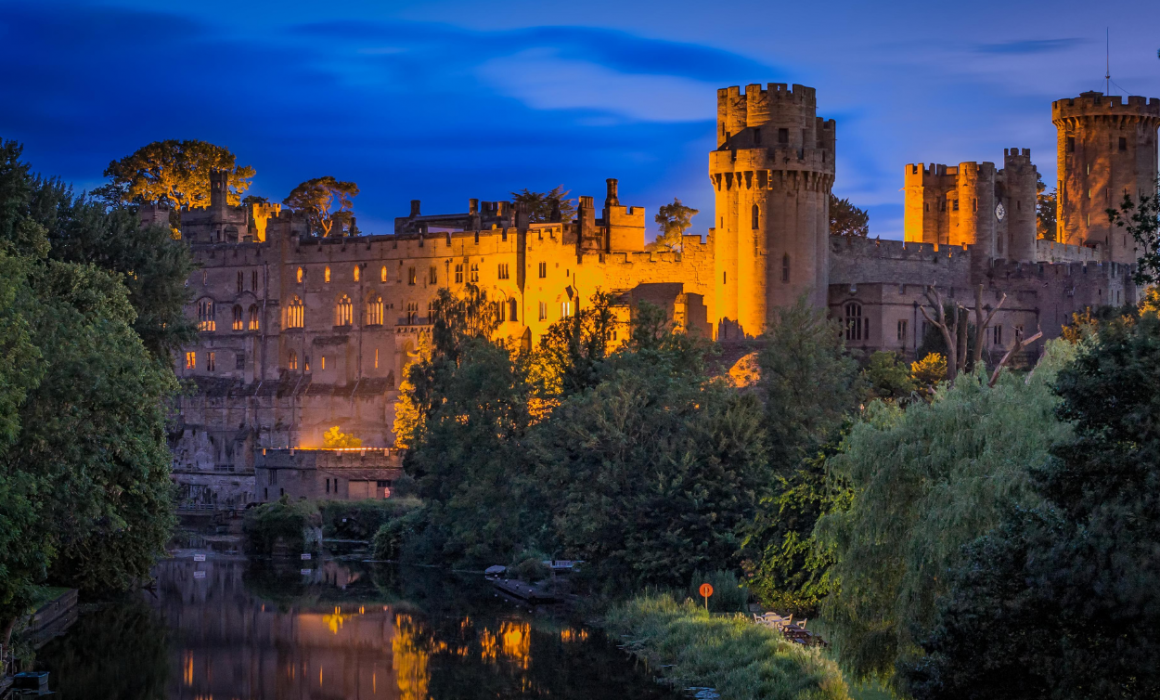 Autumn Days And Warwick Attractions
Summer feels like half a world away. Clocks are turning back and nights are drawing in, which means it's the perfect time for a break! Whether you're planning a staycation or looking for a memorable day out. Fill your holiday schedule with Warwick attractions, ranging from seasonal shows to immersive history, brimming with stunning photo opportunities!
Warwick Attractions: Transforming History
Warwick's a paradise for the architect or the historian! 12th-century churches, 15th-century gates, an eclectic mix of building styles and the jewel in the crown of Warwick attractions, Warwick Castle.
The Castle was built as a fort and developed into a medieval masterpiece and maintained for over a thousand years. Serious history fans can walk in the steps of the great, the good and the wicked on a castle tour, watch the winter falconry displays or give an ordinary weekend some sparkle by attending the Royal Weekend Party, mixing with the elites of Victorian high society. However, these Warwick attractions are tailored to families, not just adult historians, with the Princess Tower and the famous dungeon experience turning dusty old history into a vivid experience!
If that has piqued your interest, you can journey to nearby Stratford-upon-Avon to get to know the Bard, whether that's through the Shakespeare Birthplace Trust or the Tudor World experience. Atmosphere is a byword at these attractions, from the Tudor World museum to their year-round ghost tours, which offer a fully immersive experience every time. Shakespeare's Stratford is only half an hour away by bus, making it easily accessible from our cosy hotel in the heart of Warwick.
Keeping It Seasonal
Warwick attractions keep an eye on the seasons, taking off their witches' hats and dusting off Santa's sleigh as Halloween passes and we start ramping up to the most wonderful time of the year. Holidays from November through to the end of December can be filled with festive activities, beginning at the Castle, which exchanges their spooky experiences for carols, an ice rink, a light trail and Santa sleepovers.
Meanwhile, the 24th of November gives you a taste of the Warwick community with the annual Victorian Evening, complete with themed rides, a visit from Father Christmas, traction engines, fire spinners and plenty of food and drink. Traders are specially selected for a unique range of superior gifts, emphasising originality, locality and craftsmanship in a glorified Christmas market. Put your finger on the pulse of the town at its favourite time of the year with this Warwick attraction!
The Treasures Of The Town
Sometimes you just need to unwind, taking a trip through the changing colours of St Nicholas Park. One of the best attractions is the town itself, from the cobbled streets to the river beneath Warwick Castle, where you can enjoy an idyllic paddleboat ride. Wander through our diverse architecture, dropping in at the medieval St Mary's Church or taking snaps of the elegant East and West Gates. Of course, there's always the chance you're not a history enthusiast at all and would prefer to spend your break in our numerous tearooms and boutique shops!
Stay With Us
Come to rest after a long day of Warwick attractions in our 17th-century hotel, where you can revel in modern and cosy guest rooms! We're barely a two-minute walk from the Castle and surrounded by landmarks and activities, so book a room at the Warwick Arms to perfect your Warwick holiday. You can also contact us if you need any further information before you can book your stay.