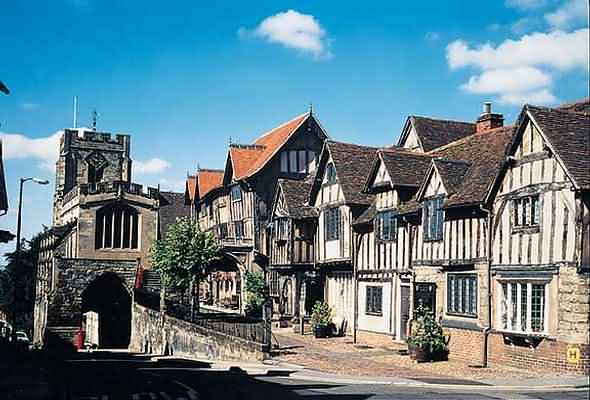 Robert Dudley: The Warwick History Trail
He's a mysterious figure at Elizabeth's court, a man remembered as a courtier, soldier, lover and cad. Does Robert Dudley deserve his reputation? Should he be remembered as the man who might have murdered his wife? Our exclusive Warwick history weekend gives you the chance to get to know the Earl of Leicester, and discuss with fellow history fans the man known as the 'eyes' of Queen Elizabeth. 
The Warwick History Weekend Plan
You may have glimpsed Dudley in the film Elizabeth or studied him for your PhD. Either way, you're welcome to walk in his footsteps during the Warwick history trail. 
The event takes place from 22nd-23rd September, beginning at 6.30pm at the Warwick Arms Hotel for a drinks reception and welcome talk. Afterwards, our guests will feast on a four-course dinner and spend the night in one of our Collection bedrooms.
Saturday will start with a hearty breakfast, before we launch into Warwick history with a trip to St Mary's Church. This incredibly old Romanesque church is a joy for historians and architects, from the Gothic chantry, vestry and chapter house to the original Norman crypt. 
For Dudley fans, the main attraction is Beauchamp Chapel, containing the ornate tomb of Dudley, his second wife and young son, nicknamed 'The Noble Impe'. A knowledgeable guide will be on hand to tell you all you want to know, though you are free to wander independently around this 12th century masterpiece. 
The Warwick Arms Hotel is across the street from St Mary's, so we can walk swiftly back for afternoon tea before heading out again on our next excursion. The afternoon tea serves as both lunch and a sweet treat, with sandwiches, freshly baked scones and homemade cake! When there's nothing left but crumbs and full tummies, we'll be escorted to the Lord Leycester Hospital by one of its authentically-dressed Brethren.
The Lord Leycester Hospital
From the outside, the Lord Leycester Hospital is an enchanting half-timbered collection of buildings, often used as a venue for weddings and parties. However, in Robert Dudley's day they served as guild halls, a kitchen and a chapel, until he transformed them into a 'hospital', a home for brave warriors returned from war.
The soldiers were known as 'the Brethren', overseen by a Master. Eight Brethren and their wives are still provided with alms houses, conducting ceremonial duties and showing around the hospital's many visitors. 
Our Warwick history trail invites you to explore these beautifully preserved buildings, emphasising the connection between Lord Dudley and the first Masters. You can trace his family tree right down to his modern descendants and enjoy new exhibitions, including original portraits and embroidery by Amy Robsart, the wife Dudley was rumoured to have killed by throwing her down the stairs.
Dudley knew military service, having had his first taste of soldiering at the age of 17. Does creating a haven for previous soldiers show the soft side of a man too much depicted as a villain? Or is this something quite different? We'd be interested to know what you think.
Kenilworth Castle
It seems strange to host a Warwick history trail without a trip to Warwick Castle! However, if you have a spare day on the Sunday, Kenilworth Castle is the place to go, especially if you want to find out more about Robert Dudley. 
Elizabeth herself gave Dudley the castle as a gift, and he dedicated himself to creating a place of wonders that would please his queen, including purpose-built lodgings and gardens especially for her. 
It says something of the affection between the two of them, with Elizabeth stopping for a full 19 days at the castle, the longest she ever stayed at a courtier's abode. The visit was packed with fireworks and festivities, ending in a masque which should have ended by encouraging the queen to marry Dudley. However, when the rain came down Elizabeth rode away, leaving Robert Dudley in the grip of disappointment. 
It's a curious question of what could have been. If you're interested in the legend of the two lovers, Kenilworth Castle should be on the agenda. 
Book Your Place
To reserve your space on this exclusive weekend, contact reception by calling 01926 492759. The price is £149 per person, including accommodation, meals, talks and guided tours!
Find out more about your host by visiting the Warwick Arms Hotel website, which includes blogs and a local events page.
Keep up with everything going on at our hotel by following us on Facebook and Instagram.