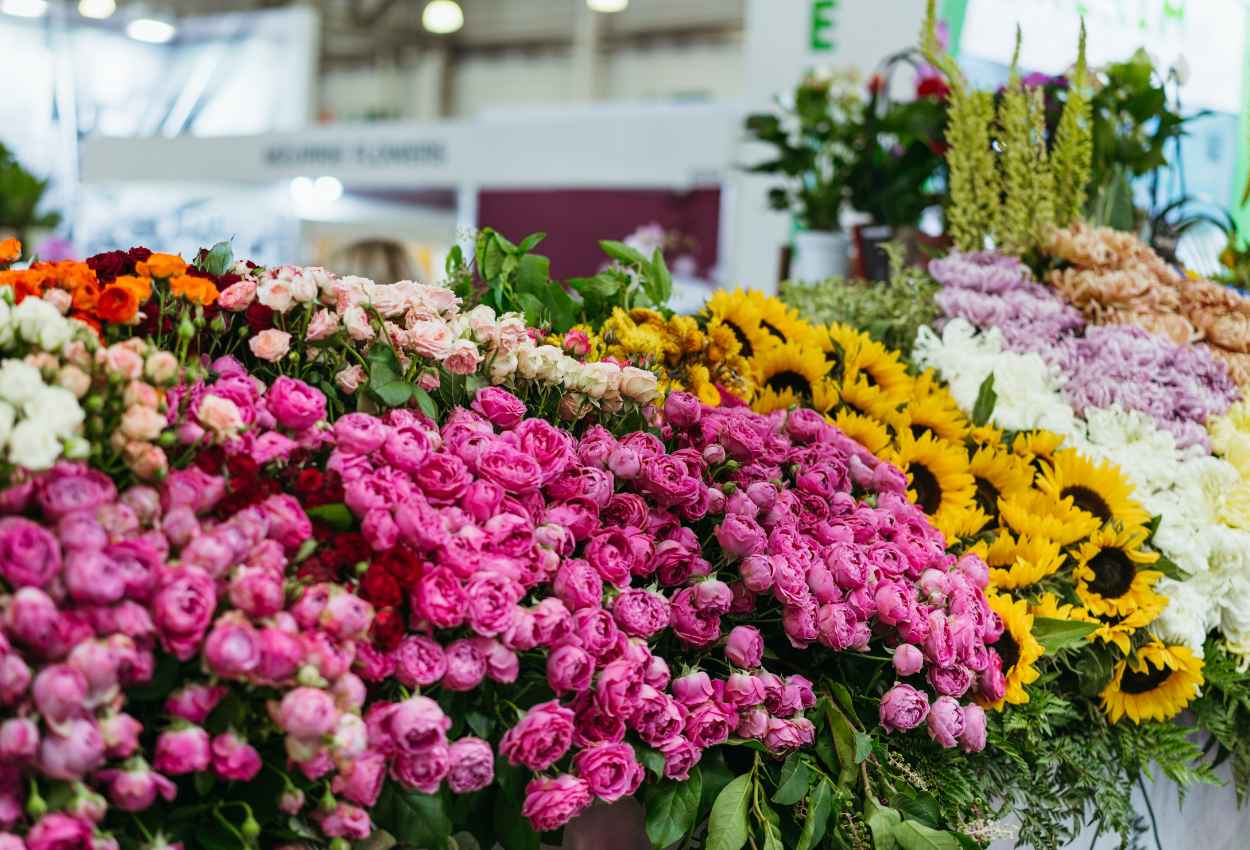 The Warwick Arms Wedding Fair
Those who are due to be wed often drift off into daydreams, imagining their venue, their dress, their cake, their car… We wanted those dreams to start to feel real, so we invited brides and grooms from far and wide for a spectacular Warwick Arms wedding fair!
We assembled our favourite wedding suppliers on Sunday 26th March, banding together to create an event you could taste, touch, see and smell. We're giving a shout-out to these stars, always on hand to make Warwick weddings truly amazing.
A Feast For The Eyes
Engaged couples gathered in our refurbished Warwick Suite to nibble canapés, surrounded by a veritable feast for all the senses.
There was plenty to see, starting with our two-room celebration suite, decked out in romantic pinks with floral centrepieces from one of our talented suppliers, Green and Wild.
There was also a vivid splash of colour with a display from Pretty Fly Co, specialists in occasion decoration. They gave our guests a taste of their decorative style, with a swirl of pink, peach and purple balloons twisting up the side of a sparkling backdrop. If you're interested in something a little different, they should be your first port of call as they love fun and surprising displays!
All our wedding fair suppliers like to experiment. However, before we get onto flowers, cakes, cars and photographs, let's turn to the item at the heart of every wedding.
It's All About The Dress
Of course, it's not really all about the dress. It's about the pledge of a lifetime of love! That being said, the dress is always at the centre of every photo and every wedding memory, so our wedding fair would not be complete without a display from Lavelle Bridal Couture.
If you know Warwick, you'll be familiar with their Jury Street shop, which brings London designs right into our country town. Lavelle set up an exhibition of their best gowns in our suite, with wedding fashions from some of the most renowned designers in the industry.
Lavelle's dresses come from Dando, Vera Wang, Savin, Pronovias and more. To find your dream dress, you can get in touch to book an in-person consultation with the Lavelle team.
Tastes And Smells At Our Warwick Wedding Fair
There are some things a website simply can't capture, like the scent of roses or the taste of cake! Green and Wild took care of the flowers for us, while Let's Eat Cake provided the sugary delights.
Green and Wild are florists for all occasions but have a special focus on weddings, particularly modern weddings. They like to think outside the box, prioritising a wild, natural look. They have a broad repertoire, creating flower sprays, table arrangements, hair accessories and bridal bouquets.
We're exceptionally lucky with our cake creators – not only do they make unique, beautiful and high quality cakes, Tom and Sarah actually got married at the Warwick Arms Hotel! It was a pleasure to see them chatting with prospective brides and grooms before the display cake was cut with flair and enjoyed by everybody. Who knew that a simple sponge cake could taste so good?
Of course, we shouldn't really be surprised. Let's Eat Cake whips up all sorts of creations, with the option to have different flavours in each tier to surprise your guests.
A Getaway Car
How are you getting from your ceremony to the breakfast and reception?
Our wedding fair had it covered, with a whole fleet of getaway cars! Beetlebugs have an abundance of classic Volkswagen vehicles, lovingly restored for wedding car hire. Perfect for a slightly quirky couple who'd rather drive away in a bright blue camper than a sleek limousine.
Beetlebugs is staffed with smart, friendly and experienced chauffeurs, who only ever book one wedding a day. They refuse to be in a rush, letting you take all the time you need with your friends and family.
With a wedding like that, you'll want a professional standing by to document the day. Introducing Floss & Bea Photography, who specialise in creative, non-traditional photos. Forget stiff, posed photographs, Beth will give you an album's worth of vibrant, unstaged snaps.
Get In Touch
Interested in our venue hire or wedding packages? Get in touch by calling 01926 492759 or emailing reception@warwickarmshotel.com.
Head to our website to view our function room suite or pay us a visit at 17 High Street, Warwick.
To keep up with our news and details of the next wedding fair, follow us on Facebook and Instagram!